HOMES IN SNOWMASS VILLAGE
Homes In Snowmass: Homes In Snowmass Village - Snowmass homes for sale. Every Snowmass Village Real Estate Listing in the Real Estate MLS updated daily. 
Snowmass Village Real Estate
Snowmass Village is a beautiful place to live, and the homes in this community are a true reflection of that. Homes in Snowmass Village come in a range of sizes and styles, allowing everyone to find the perfect fit for their lifestyle. To be close to some of the best skiing in the nation, stunning vistas, and so much more, do not overlook the beautiful homes of Snowmass Village. 
Beautiful and spacious homes are in abundance in Snowmass Village, but what surrounds them is just as special. Homes overlooking the four ski mountains of Aspen-Snowmass Village provide unbeatable vistas of the picturesque scenery below. Others rest on the banks rushing rivers and babbling brooks, with one-of-a-kind waterfront views. No matter where you live in Snowmass Village, a glance out the window is like looking at a postcard. The scenic beauty that surrounds these homes is only part of what makes living here truly special. 
The spacious interiors of homes in Snowmass Village homes provide for plenty of rooms to spread out and enjoy everything your beautiful mountainside retreat has to offer. Large kitchens with state-of-the-art appliances, luxury bathrooms, and beautiful master bedrooms are just the beginning of what is offered. Included workout rooms, saunas, and more make it easy for you to take care of all your health and wellness needs right from the comfort of your own home. 
Special features like real, wood-burning fireplaces are common in Snowmass Village homes, some even offering one in nearly every room. It is easy to create a picturesque scene curling up in front of a fire while you relax after a fun day in the snow. Amenities in Snowmass Village homes allow residents to enjoy the very best in recreation and entertainment. Pools and hot tubs are common additions, perfect for enjoying in the summer or relaxing during the winter. State-of-the art media and cinema rooms are great for entertaining the whole family right from the privacy of your own home.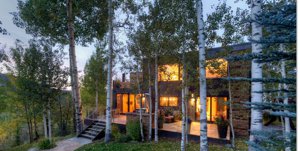 Homes in Snowmass Village vary in the amount of space they offer outside. Homes directly on the mountain side offer spectacular views and skiing opportunities, but are more limited in yard space. Outdoor decks and patios off of Snowmass Village homes allow you to fully take in all of the scenic beauty that surrounds these homes. Every aspect of the luxury designs of Snowmass Village homes allow you to fully enjoy all the space of your home, indoors and out. 
Homes in Snowmass Village offer a wonderful location, surrounded by an abundance of beautiful, scenic views and exciting activities. The beautiful houses here place you right in the middle of the beauty and excitement, allowing you to fully enjoy this mountainside retreat. Do not wait, come today and see all that owning a home in Snowmass Village has to offer.